English
Spanish

Cecilia del Pilar Valenzuela Valencia (Born in Arequipa, Perú May 2, 1965). an important well knowned peruvian journalist, anchor for the newscast program where she directed, "La Ventana Indiscreta", (also worldwide using internet, now conducting a program on Channel 36 and Cable Telmex 8 called "Mira Quién Habla", on Willax Televisión).

She is also an international ABC corresponsal for the newspapers in Madrid, Spain.

Criticism: (About The Nasca Code) "Why not listen, when someone has a really innovative idea. I'm impressed with what the author has revealed in his work, and we will wait for the authorities having to do with engineering, culture, the environment, development, ecology, climate change, agriculture and water in our country, pay close attention to this book"... Nov 21,2010

Cecilia del Pilar Valenzuela Valencia, (*Arequipa, 2 de mayo de 1965) es una renombrada periodista peruana conocida por dirigir "La Ventana Indiscreta", programa transmitido a nivel nacional en el Perú (también por Internet a nivel mundial) y que actualmente conduce el programa "Mira Quién Habla", en Willax Televisión

Además es corresponsal en Perú del diario ABC de Madrid, España.

Critica: (Sobre El Código Nasca) "Por que no escuchar, cuando alguien tiene una idea realmente innovadora. Estoy gratamente impresionada por lo que el autor nos ha revelado en su obra, y vamos a esperar a que las autoridades que tienen que ver con la ingeniería, la cultura, el medio ambiente, el desarrollo, la agricultura y el agua en nuestro país, pongan mucha atención a este libro"... Nov 21,2010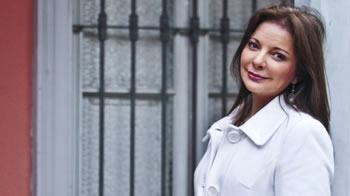 Biography - Biografía
Edit
In 1993 she received the international recognition Courage Award Winners for doing a report about Violation of Human Rights.

She has worked on numerous television and print media. In 1997 press charges along Lourdes Flores (then peruvian president candidate), against the nationality of Alberto Fujimori, pressumed to be japanese. Her accusations found little political support from the Congress of Peru.

After a season working on "Canal N" a very important cable broadcasting channel on 2003 returned to live television with the political sunday's program "La Ventana Indiscreta" (Frecuencia Latina) channel 2, very successful in its early years. Characterized by continuously investigated "Peru Possible", President Alejandro Toledo's political party and his wife Eliane Karp.

In early 2005 the program suffered a schedule change. After having been for about two years in the Sunday schedule, went to a daily broadcast program in place of the program led by journalist César Hildebrandt.

She is currently director of "Mira Quien Habla" news program, broadcast by Willax Televisión.

En el año 1993 recibió el reconocimiento internacional Courage Award Winners por hacer un reportaje sobre Violación de Derechos Humanos.

Ha trabajado en numerosos programas de televisión y prensa escrita. En el año 1997 denunció junto con Lourdes Flores la nacionalidad japonesa de Alberto Fujimori. Sus acusaciones encontraron poco respaldo político por parte del Congreso de la República.

Luego de una temporada en la señal de cable de Canal N con el programa Entre Líneas en el año 2003 regresó a la televisión abierta con el programa político dominical "La Ventana Indiscreta" por "Frecuencia Latina", teniendo mucho éxito en sus primeros años. Caracterizada por investigar continuamente a Perú Posible, Alejandro Toledo y Eliane Karp.

A principios del año 2005 su programa tuvo un cambio de horario. Luego de haber estado por aproximadamente dos años en el horario dominical, pasó a una emisión diaria en reemplazo del programa Hoy con Hildebrandt conducido por el periodista César Hildebrandt.

Actualmente es directora del programa periodístico Mira Quién Habla, que se transmite por Willax Televisión.
Resume - Carrera
Edit
TV - Televisión
Edit
Como directora y conductora en
Aquí y Ahora (1998) - ATV Channel 9
Sin Censura (1998) - ATV Channel 9
Entre Líneas (2001 - 2003) - Canal N Channel 8
La Ventana Indiscreta (2003 - 2008) - Frecuencia Latina Channel 2
Mira Quién Habla (2010 - presente) - Willax Televisión Channel 8 Telmex & Channel 36 Cablemagico
Magazines - Revistas
Edit
Como redactora en
Sí (1989)
The Perú Report (1992)
Caretas (1992- 1995)
Como directora en
Imedia Perú (2000)
Agencia Perú (2001 - 2009)
References - Referencias
Edit
External links - Enlaces externos
Edit